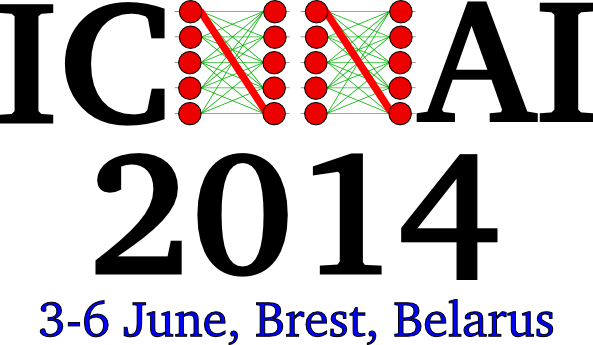 Call for Participation
The 8th International Conference on Neural Network and Artificial Intelligence (ICNNAI'2014)

3 - 6 June, 2014
Brest State Technical University
Belarus

(If you need to visit at the latest Call-for-Paper, click CFP here)
---

The 8th International conference on Neural Network and Artificial Intelligence (ICNNAI'2014) will be held from 3 to 6 June 2014 in Brest, Belarus.
PROCEEDINGS
The ICNNAI-2014 proceeding will be published from Springer as a CCIS (Communications in Computer and Information Science) volume.
The author of the accepted paper is required to upload (1) the final version of camera-ready draft in PDF, (2) complete set of the article sources files (such as EPS, JPG for Figures) by comprssing them with with zip, tar, tar.gz or tar.Z (no single file exceeding 50 MB) and (3) scanned image of the copyright-form filled with (i) the title of the contribution (paper), (ii) authors names, (iii) corresponding authorís name, address, affiliation and Email, in addition to (iv) your signature.

The copyright form pre-filled with the title of the conference and the names of the volume editors can be downloaded here.
SESSIONS
Conference comprises of four categories of sessions. All the sessions will be in single track, and we will take an enough time for hot disscussions after talk. See Program here (Not yet constructed at this moment).
PLENARY SESSIONS

Professor Koji Nakamura (Kanazawa University, Japan)

Title: "Maintenance of Forest Resources."

After the talk, two short tolks on "Forests in Belarus" and "Forest management from IT prospects" are planned.
REGULAR SESSIONS


Each talk will be assigned 15 or 30 minutes according to the presenter's choice. Each follows 5-10 minutes of discussion. Hot interdisciplinary interactions are expected.
ROUND TABLE DISCUSSION

Title: "Can we achieve a human-like artificial intelligence using artificial neural networks?"

This session starts with about 40 minutes talk on "A survey of formal definitions of machine intelligence."

Then after a couple of short presentations, we discuss on the topic.

Short presentation, say, for 5 minutes, would be welcome (please let us know in advance if you plan to make it):
SESSION with PAPERS after DEADLINE


Papers submitted after deadline could be presented in this session.

In case you want this option:

After a simple review by PC-chair, re-edited (if necessary) camera-ready draft must be sent again via email by 17 May.

Position paper or report of premature resut would be O.K. but paper already published elsewhere would not be acceptable.

Needless to say but "Plagiarism" would be out-of-question!

The paper will be in a booklet published by the BSTU print house, and be delivered to all the participants.
REGISTRATION
Early registration

Standard registration fee ... 180 Euro.


This early-bird registration must be completed by 9 May.

This includes participation to all sessions, proceedings, post-proceedings from Springer, gala dinner, excursion to Pusha forest.

All the participants whose paper is planned to be in the proceedings from Springer must register by this option.
Payment should be to:

citibank (Shinsaibashi): 94626766 for EURO only

account name: Akira Imada

(Someone might be suspicious why to the bank in Japan? Unfortunately, however, money transfer to Belarus from outside would still be somehow complicated and fee for this transaction would be unusually high, while in the way above the fee is world standard and conference organizers can transfer these money from Japan via ATM with a small amount of fee. That is why.)
Registration on site

Registration could be made also during the conference.

Standard registration fee ... 200 Euro.
Accompanying person including all events except for the proceedings ... 100 Euro
Participants who want to join only the sessions ... 60 Euro


The fee does not include any social events such as gala dinner or excursion.

This 3rd option is not encoraged in general. Only for participants who will have a financial problem to join.

Those who want to apply this option should contact us in advance.
THE SOCIAL EVENTS
Besides those sessions above, we plan other social events.
Gala dinner

4 June 2014 (After all the sessions of the day.)
Excursion to the forest which they say the biggest one in Europe.

6 June 2014 (After the last morning sessions).
Belarus is a land of fairly well-kept secret. In this lovely wonder land, with luck, you'll find something that could not be discovered elsewhere.
ACCESS TO BREST
From outside Belarus, we have two options of air trip. One is via Minsk and the other is via Warsaw. Unless your airport have a direct flight to Minsk, it might be more convenient via the Warsaw airport, which they call "Chopin Airport."
Via Warsaw Chopin Airport ... Take a bus No. 175 at the airport which takes you directly to warsaw Central Railway Station. You can buy the ticket for train at the Casa No. 15 and 16 (They say these 2 are for international line, not in English but in Polish though). The price is about 30 Euro. The timetable of the train from Warsaw to Brest can be seen at Train Timetable. Enjoy breathtakingly beautiful scenery from the train window for around 4 hours.
Via Minsk Airport ... Take a bus No. 173 or 300. The buses are available quite frequently from 03:15 to 00:50. It takes around 1 hour 20 min (41km) to the bus terminal located about 200 meters from the Minsk central raiway station. It will cost about 2 USD. See more detailed information here if necessary.

Unless your airport has a direct flight to Minsk and none to Warsaw, we strongly recommend via Warsaw.
ACCESS TO UNIVERSITY AFTER ARRIVING BREST RAILWAY STATION
Here you might find a simple map from Brest Center railway station to the University which includes three cafe/restaulant within walking distance from the university.

We have three options. (i) Trolleybus No. 1, 2, or 3 ... 3000 BYR; (ii) Mini-bus No. 6, 11 ... 6,000 BYR; (iii) Taxi ... about 50,000 BYR (Note that 10,000 BYR = 1 USD as of 20 April 2014). Important notice would be, inconveniently, we have to find place for each option around the railway station. See the map of arround the station. This map is specifically to know where could we take trolleybus, mini-bus, or taxi to the university.

Click here if you prefer more precise map.
HOTEL ACCOMODATION
We don't have a hotel within a walking distance from the conference site. So, in order for convenience we have already kept rooms in one Hotel as a default.
Hotel Vesta (16 Krupskov street. 16)
This is not a new hotel but some local people proudly say "This is the best hotel in the town." Price is approximately 28 euro for a standard single room per night.
If you want a new modern style hotel or not very convenient but cheaper hotel, please try to contact us.
We also have a couple of guest rooms in the University dormitory. This is for almost free, but unfortunately we have only a limited number of this fascility. So we put priority to young participants from foreign countries.
PROGRAM COMMITTEE
Dmitry Bagayev (Kovrov State Techhological Academy, Russia) Irina Bausova (University of Latvia, Latvia), Alexander Doudkin (National Academy of Sciences of Belarus, Belarus), Nistor Grozavu (Paris 13 University, France), Marifi Guler (Eastern Mediterranean University, Turkey), Stanislaw Jankowski (Warsaw University of Technology, Poland), Viktor Krasnoproshin (Belarusian State University, Belarus), Bora I. Kumova (Izmir Institute of Technology, Turkey), Kurosh Madani (Paris-East University, France), Poramate Manoonpong (University of Southern Denmark, Denmark), Jean-Jacques Mariage (Paris-8 University, France), Saulius Maskeliunas (VU Matematikos ir informatikos institutas, Lithuania), Helmut A. Mayer (University of Salzburg, Austria), Alfonsas Misevicius (Kaunas University of Technology, Lithuania), Jakub Nalepa (Silesian University of Technology, Poland), Vincenzo Piuri (Universita degli Studi di Milano, Italy), Vladimir Redko (Russian Academy of Science, Russia), Izabela Rejer (West Pomeranian University of Technology, Poland), Hubert Roth (Universitat Siegen, Germany), Anatoly Sachenko (Ternopil National Economic University, Ukrane), Sevil Sen (Hacettepe University, Turkey), Daichi Shirano (Kansai Institute of Technology, Japan), Tsuneo Nakanishi (Kyusyu University, Japan), Volodymyr Turchenko (University of Tennessee, USA), Lipo Wang (Nanyang Technological University, Singapore).
HONORARY CHAIR
Petr Poyta (Brest State Technical University).
CHAIRS
Vladimir Golovko, & Akira Imada (Brest State Technical University).
CO-CHAIRS
Vladimir Rubanov (Brest State Technical University), & Rauf Sadykhov (Belarusian State University of Informatics and Radioelecrtonics).
ADVISORY BOARD
Vladimir Golenkov (Belarusian State University of Informatics and Radioelecrtonics), Valery Raketsky & Vitaly Sevelenkov.
LOCAL ARRANGEMENTS COMMITTEE
Alexander Brich, Andrew Dunets, Uladzimir Dziomin, Anton Kabysh, Valery Kasianik, Pavel Kochurko, Hennadzy Vaitsekhovich & Leanid Vaitsekhovich (Brest State Technical University).
CONTACT ADDRESS:
Conference e-mail: iccnai-2014@brest-state-tech-univ.org
Intelligent Information Technologies Dept. Brest State Technical University Moskowskaja 267, Brest, Belarus

phone: +375-162-42-6321 fax: +375-162-42-2127